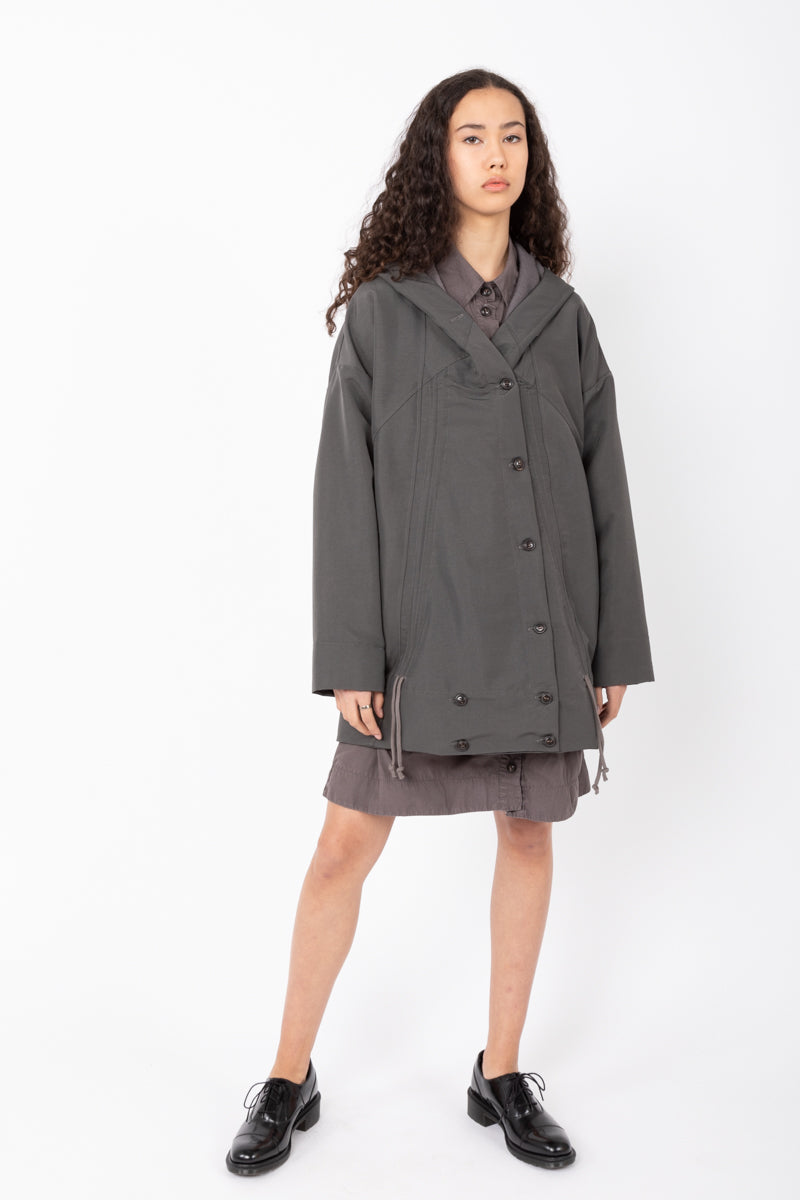 Moth Raincoat in Charcoal
Perhaps more topical today then its debut in 2012, the Moth raincoat in Charcoal retains an important place in an offering of hourglass silhouettes. Its oversized proportion is approachable due to the fitted sleeve. Inspired by Japanese avant-garde design from the 80's, its shape is now common parlance in contemporary sportswear. The raincoat version of this style has a hood and is lined in tonal hemp and recycled poly fleece for added warmth. The shell has been treated with a Durable Water Repellency.
– Button closure at top allows the hem button to be free
– Stacked hem buttons create a blouson shape with large lapel
– Channels on either side of the lapel can change the length and texture
– Lapel may be worn facing in or out to different affect
– Shell: 100% DWR nylon Lining: 55% hemp 45% recycled poly
– Quantity produced: 27 in charcoal
– Made in Seattle, U.S.A.

Size/Fit
Size 1:
Bust: 50″ | Waist: 46″ | Hip: 46″ | Length: 31″
Size 2:
Bust: 52″ | Waist: 50″ | Hip: 50″ | Length: 32″
Size 3:
Bust: 56″ | Waist: 54″ | Hip: 54″ | Length: 33″
Madeline is wearing a size 1
Madeline: Height: 5' 8" | Bust: 34" | Waist: 25" | Hip: 40" | Inseam: 30"