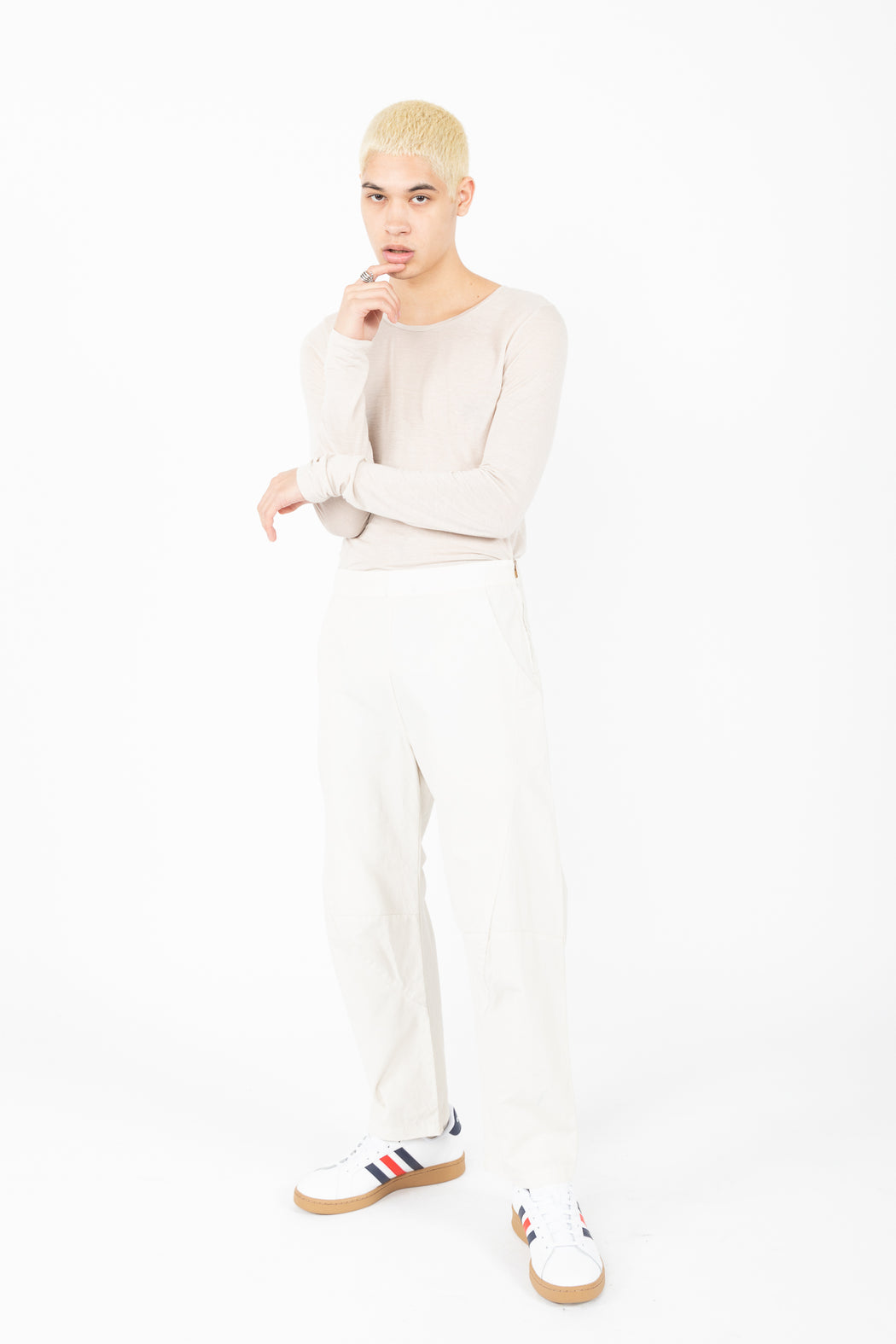 Balloon Pant in Oyster
"It's usually better for us (me) to make what we (I) make, put it out or don't, and then talk about it freely."
The shape of pants today, our Balloon Pant has a way of harmonizing all body types into the same a lively stance.
– Dual front trouser pockets with internal device pocket
– Darted clean back and contoured waist
– Side zip entry and minimal front suitable for layering
– Curved seamlines create 3D knee shaping
– Body: 100% Cotton
– Quantity produced: 32 in oyster
– Made in Seattle, U.S.A.
Continuing our investigation of workwear and uniforms as non-traditional sportswear, our sport poplin group was conceived as adaptable, oversized multiples that promote architectural shaping in basics.
We commissioned this curious textile from a supplier in Los Angeles to recreate a deadstock sport poplin. The dense weave of this textile has an impenetrable feeling, making it especially useful for travel.
Intended as a uniform or separates, this series was also conceived as a unisex, oversized fit scaled to suit a spectrum of workers in sizes xs – xl.

Size/Fit
Size S:
Waist 28″
Hip: 40″
Inseam: 24″
Front rise: 12″
Liliana is wearing a size S
Liliana Height: 5' 8" | Bust: 30" | Waist: 27" | Hip: 33"
Morgan is wearing a size S
Morgan: Height: 6' | Bust: 33" | Waist: 27" | Hip: 37" | Inseam: 31"